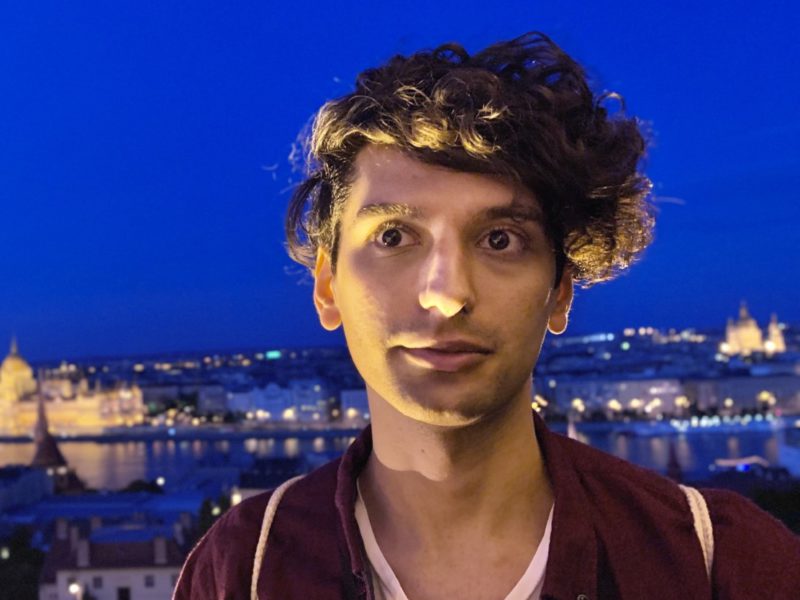 Aria's Journey
My name is Aria Askari and I am completing a masters in History and German Philology at the University of Vienna.
I mostly grew up in Vienna and have strong family ties to Graz in southern Styria, but also spent significant parts of my childhood in Tehran, Iran and the US.
I speak German, English, and Farsi, and allegedly learned French at school. I know my way through the Greek alphabet, might understand some friendly chatter, and can buy a kilo of tomatoes. After graduating high school, I tried studying at the art academies in Vienna and also took up law and art history as well as some classes at the theology department, but finally decided on History and German Philology.
When I turned 17, I had to decide how I wanted to serve my mandatory military service in the Armed Forces or in civilian service. I knew from the beginning that I wanted to do a civilian service outside of Austria and therefore started looking for an organisation and a place that would be interesting and challenging.
However, I decided it would be best to complete my studies first, so that I could use the experience and knowledge I gained as part of my civil work. Through a chance meeting with a fellow conscript, I found out about the Austrian Service Abroad, which I joined in 2017 and until recently have been working in as the spokesperson for Vienna.
I was very happy when I heard that we started cooperation with the Cape Town Holocaust & Genocide Centre, which I just had started following through the newsletters and recent publications. And of course, I jumped at the opportunity to come and work at the Centre as part of my "Gedenkdienst".
The "Gedenkdienst" which can be translated loosely as "Holocaust Memorial Service" was introduced in 1992 and has drawn attraction ever since. and was recently opened to any Austrian or EU-citizen as a voluntary service.
The core idea of the Gedenkdienst, which lasts 10 to 12 months, is that young Austrians take up responsibility for their, and especially Austrian history. As the name already indicates, the Gedenkdienst is focused on the confrontation with the atrocities and crimes of the Holocaust.It seeks to give any person the opportunity to work in museums, archives, educational institutions and maybe most important, in Holocaust Survivor Centres all around the globe. We are meant to strengthen the memory of the victims, what they witnessed and experienced and to carry on the confrontation with our past as Austrians but also take up the individual responsibility as the next generations.
The main reason I am so eager about coming to South Africa, and especially Cape Town, is that so many memories and individual histories seem to merge and "diverge" in this city. Though I have been reading up and studying on some aspects of the South African roles and the complexity it provides, I am still scratching on the surface.
I am certain that introducing different memories and layers of history we will be able to establish a deeper and greater understanding of our history, the roles we can play when remembering and the places we occupy.
To me, a Gedenkdienst at the Cape Town Holocaust & Genocide Centre, where I will be working in the archive, is therefore not only an opportunity to take on responsibility towards history but also toward every single individual who fell victim to a crime that even intended to erase their memory.