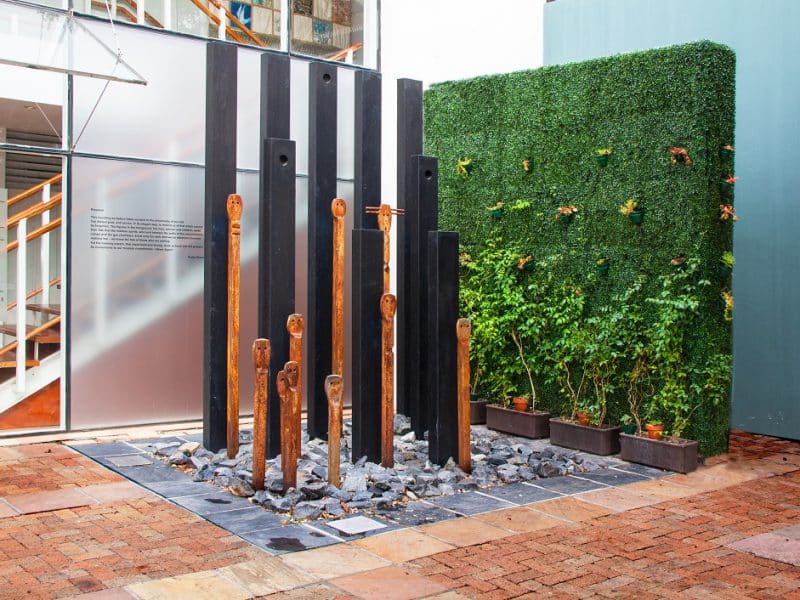 Archival Intern Kine Matose explores the emotive topic of memorialisation.
Why do we memorialise?
We memorialise as a way to show respect and preserve the memory of individuals, whether passed or living, groups of people or events. There are many traditions to honour people: statues, buildings, tombstones, street names, physical spaces and more. However, even though the objective of a memorial is honour and remembrance, I believe there are aspects of memorialisation we need to address as the process is not as black and white as most people think.
Are memorials neutral?
Often times we assume memorials are neutral spaces. But I find it hard to believe memorial sites are neutral. There is no true way of objectively representing a history concerning group experiences of an event. To create a memorial, we need to retrieve the memories surrounding the events before, during and after. The problem is that the memory can be easily misinterpreted because it is easy for us to misread information or to only focus on information which furthers our own agendas. So if we can be objective with our own reading and interpretation, what more when more when we are doing this to create an object/space for remembrance?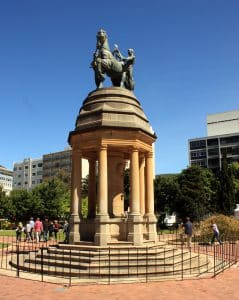 The Devlin Wood Memorial, Cape Town
We are bound to find the subjectivity of the curators and creators of the memorials which mean we have to question their reasons to create the sites, do they have some ulterior motive or who are they trying to gain clout from, and who financed their projects. With all these influences, there is no room for neutrality. Whilst it may seem as though I am painting a grim narrative, or being dismissive, it's the opposite. Subjectivity is necessary. Sometimes the use of bias, by the creators highlighting why they think the memory they are commemorating is important, can help invoke an emotional reaction to the memorial. I do not think you can invoke any emotions by have a 100% objective site as it would be stale and not lead to any lasting impact in the transfer of memory.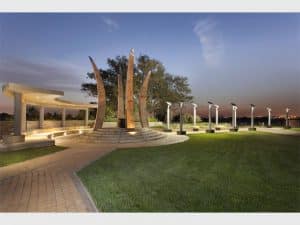 Chris Hani Memorial, Boksburg
What about controversial sites and statues? Do we rid or accept them?
To be completely honest, this is a grey area for me. On the one hand, we need to acknowledge the statues and symbols which we see were made at a time where it was the norm to celebrate 'great' figures, these statues are our physical encounter with the past. They are objects of the past which physically interact with us in our present time – they are history we can 'touch', yes I know you can't touch them, unlike the history with school texts and journal articles.
Statue of Cecil John Rhodes, Cape Town
The opposite end of the spectrum is we know more now about the contexts in which they were created and we know, or should, better as a society. Yes we can marvel at how grand and awe-inspiring statues can be but at the same time, how do you marvel at a monument to an oppressive person? Especially in South Africa, and in the United States, there are a lot of monuments which celebrate figures who were great sympathisers or active in the oppressive regimes and gross human rights violations towards people of colour. One would hope
"But that was in the past. We know they were wrong but ridding them won't change anything".
And I agree with that perspective fully. Even if we rid these monuments from the general public, by putting them in storage or in museums, it will not change what their part in our various histories. I think we have to look at these monuments as constant reminders of painful histories but with plaque-cards that say "We do not celebrate! We debate!" so we publicly do not forget the past – especially for those who say "we should forget and move on".
The bust of H.F. Verwoerd
So should we get new ones to counter?
Whilst I believe it would be a great opportunity to honour those who history may have forgotten or remind the public on lesser known heroes, it would not be an excuse to erect statues left, right and centre.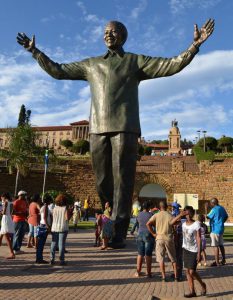 Walter and Nontsikelelo Albertina Sisulu statues, National Heritage Monument, Pretoria
Nelson Mandela statue at the Union Buildings, Pretoria
Not that there is an issue with statues but one has to wonder if we haven't exhausted that option. Personally, I view them one-dimensional form of the past interacting with the present and that is by looking at them. Additionally, assuming they are state funded, it would cost the taxpayer too much money to create 100's of monuments.
I do not have the answers for suitable alternatives. I can only look to what is already present and see what works. We can create living memorials, spaces which would represent the lives that once were, which can offer visitors more than one way of interaction, like a picnic, with the memory. We can also continue the standard of naming streets, public buildings etc., as memorial although there is always the possibility of those names being changed at some point in the future.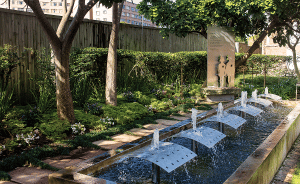 Garden of Remembrance, Durban Holocaust and Genocide Centre
At the end of the day, there can never be a universally approved memorial. People will always find issue if we feel they do not properly portray our image of those we honour. Even if we, in the present, believe we are honouring people in their truest memory, I cannot help but have pessimistic views of those who will come after us. Would they think our memorial was inadequate? Will they lose sight of the function appreciating memory and attempt to turn the spaces, or objects, into extensions of their own egos?