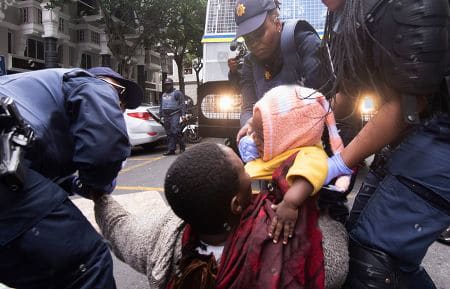 The Cape Town Holocaust & Genocide Centre works towards creating a more just and caring society, in which human rights and diversity are respected and valued.
Our South African Constitution stipulates that our country belongs to all those living within it. We have, however, witnessed unprecedented levels of violence against foreign nationals which have resulted in the loss of lives, the destruction of property, the breakdown of families and an overall collapse of trust within communities across the country.
We are extremely saddened and concerned by the events that are unfolding at Greenmarket Square, Cape Town and recognise that the refugee community, including women and children are particularly vulnerable in times of violence.
We call on our government, political leaders and local leaders, to uphold their responsibilities, to work towards promoting social cohesion in our country and to eradicate discrimination.
The Cape Town Holocaust & Genocide Centre supports the Cape Town Jewish Board of Deputies' appeal for donations of foodstuffs, water, and the basic necessities for babies and children. All donations can be dropped at their office – 87 Hatfield Street, Gardens.