CTHGC Events Calendar
We have regular events throughout each month. Please ensure that you register for any event you intend to attend. While our events are free of charge, donations are welcome in support of our ongoing events.

Virtual Event
Nurturing Peace: Building blocks for a more resilient people – A case of Rwanda
Jul 15 @ 7:00 pm

-

8:30 pm

SAST

Virtual Event

Free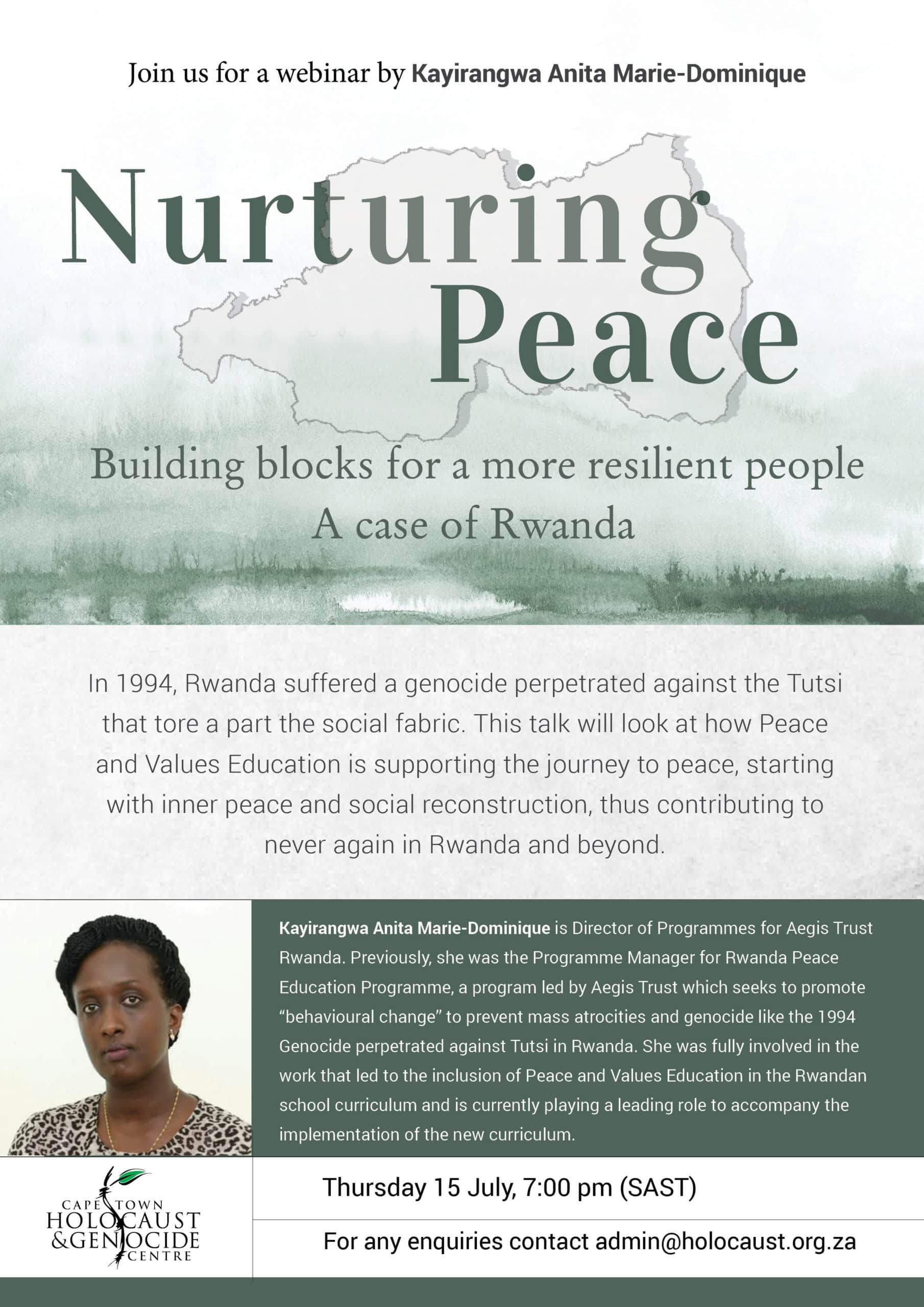 Nurturing Peace: Building blocks for a more resilient people – A case of Rwanda
In a country that suffered from war and genocide perpetrated against Tutsi in 1994, in a country where the social fabric seems so broken that no one sees signs of light, a country that inherited so many challenges and each of them seemed to be a priority. Everything was a priority. No State machinery, 3.5 million refugees, orphans and child headed households, wounded people, widows, no shelter, trauma, justice, coexistence, Genocide ideology, children born out of rape, HIV, broken trust etc. Social reconstruction became a dream that many aspired to but seemed unattainable.
It is generally known that teachers have the capacity to build and heal a whole generation. They influence not only their students but also the community at large. They however need content and appropriate methodology. It is against this backdrop that Aegis worked with the Ministry of Education and specifically Rwanda Basic Education Board, where the biggest achievement was to have Peace and Values Education integrated in the school curriculum. Aegis works with parents, youth and Decision Makers & Researchers to support conducive and peaceful environment.
Aegis Peace and Values Education initiatives which are essentially transformative, intend to cultivate the knowledge base, skills, attitudes and values that seek to transform people's behaviors for better and informed decisions. They are built around the concept of Ubumuntu (Ubuntu) and a mindset that is able to challenge personal and social action to create conditions and systems that portray nonviolence, justice and other peace values.
Through this discussion, we will look at how Peace and values Education is supporting the journey to Peace starting with inner peace, social reconstruction and contribute to never again; in Rwanda and beyond.